New USAePay Points of Access
As you know, NMI acquired USAePay in 2021 and we're thrilled to be one unified company.
With the USAePay platform now being part of the NMI product family, you have likely already seen emails come from the NMI email domain when interacting with your points of contact, as well as for company news. And there are a few more changes that went into effect on February 17th, 2022, which are outlined below:
USAePay website:
We have redirected usaepay.info to NMI.com. As a result of this, we have moved the access points for USAePay logins and Integration documentation from the USAePay site to the NMI site.
USAePay Platform Login Access:
These are accessible on the NMI site by following this path for both the Reseller and Merchant Console: Login > USAePay by NMI Login.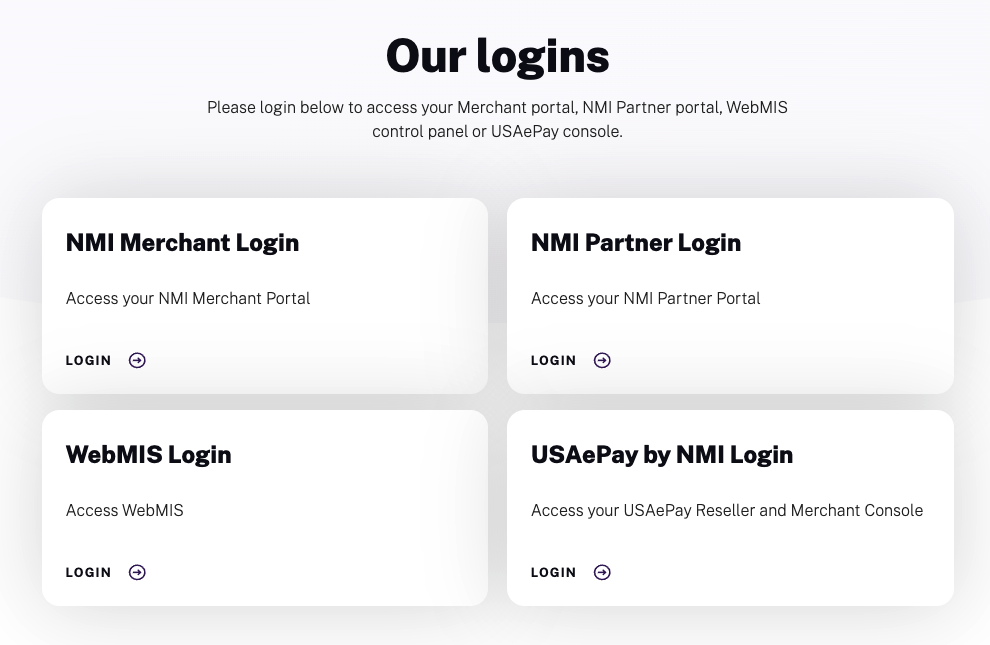 USAePay Platform Integration Documentation Access:
The documentation will continue to be accessible via the USAePay Developer Resources. It can also be accessed on the NMI site by following this path: Developers > SDKs & APIs > USAePay SDKs.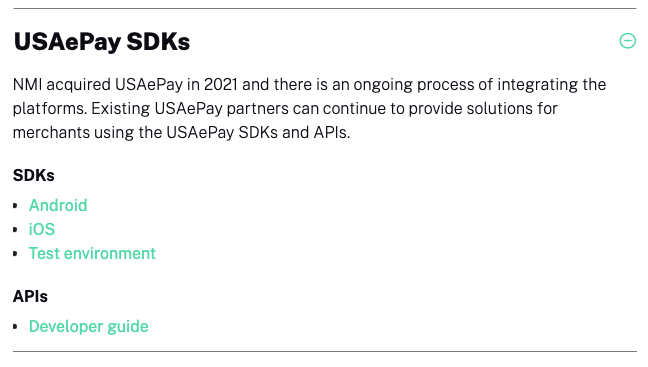 USAePay Social Media:
We will be transitioning USAePay's LinkedIn, Twitter, Facebook and Instagram accounts over to NMI accounts. We encourage you to follow NMI's accounts for the latest news on the unified company.
Customer Support:
Please continue using the existing Support phone numbers and email addresses to reach our USAePay Support teams which are outlined below:
Customer Support

Tel: (866) 872-3729
Email: support@USAePay.com

Partner Support

Tel: (866) 872-3729 ext. 707
Email: resellers@USAePay.com

Integration Support

Tel: (866) 872-3729 ext. 706
Email: 706@USAePay.com
Frequently asked questions
Do I need to change my integration, update URLs, change software dev kits, etc.?
Can I still use my existing USAePay merchant account and console?
Will my existing processing solution still work?
Do any of these changes impact private branded URLs?
As always, if you or your merchants have any questions or concerns, please feel free to reach out to the USAePay partner support department at 866-872-3729 x 707.
Sincerely,
USAePay Team