Merchant News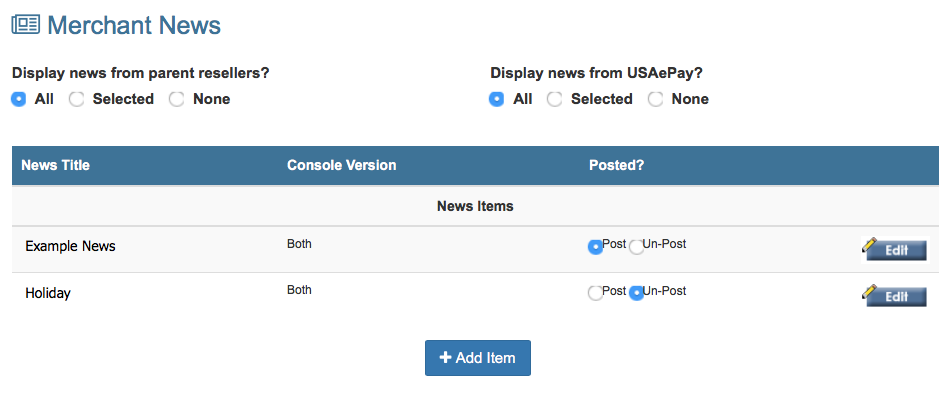 From the Merchant news Settings page you can determine which items appear on your merchant's home pages as well as post, un-post and edit your own news items.
Display News From...?

You can control which, if any, of the news items posted by the parent reseller or USA ePay your merchants will be able to see. For each of these you can choose to publish all news stories, none of the news stories, or selected news stories. If you want to screen news stories and choose selected news items, a new box will appear below your individual news items where you can select which Parent Reseller and/or USA ePay news stories your merchants will be able to see.
While it is not possible to edit posts belonging to Parent Resellers or to USA ePay, you are able to choose whether or not to post the items. Click on the View button to the right of the item to read it in its entirety and decide whether or not you would like it to be posted to your merchants' home pages.
Add News Item
To create a new news item and post it to the home page of your merchants' consoles, click on the Add Item button at the bottom of the News Items list.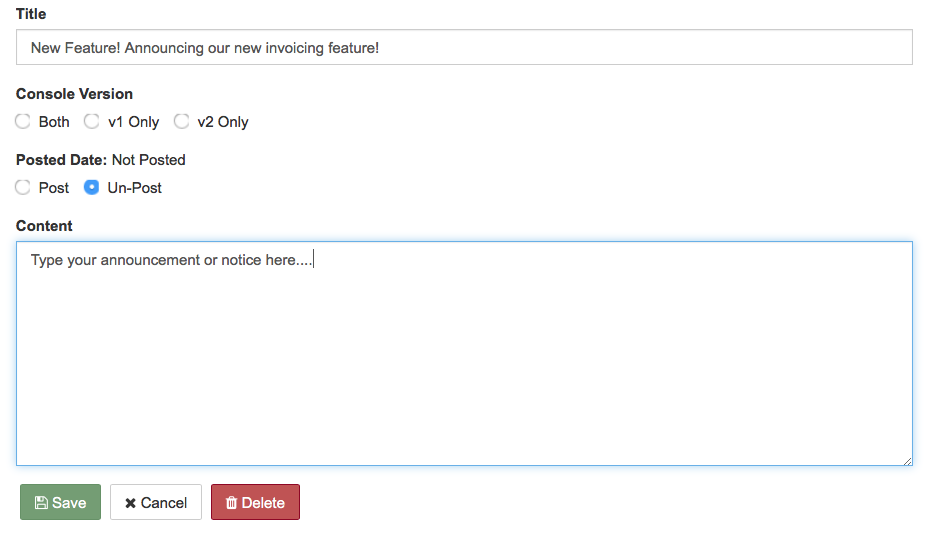 Give your News Item a title and include all of the necessary information in the space provided. When you are finished, select Post and click the Save button to post your item to all of your merchants' home pages and return to the main Merchant News page.
You can also save the item and come back later to post it at a specific time.
Edit News Item

You can edit any of the posts that you have created. Click on the Edit button to the right of the item and you will return to the editing screen from whcih you can change the item, delete the item, and post or unpost the item.